We were two regular parents, who wanted the best for our children and we were unwilling to compromise on the foundational years of our kids' education.
So….we started a preschool of our own!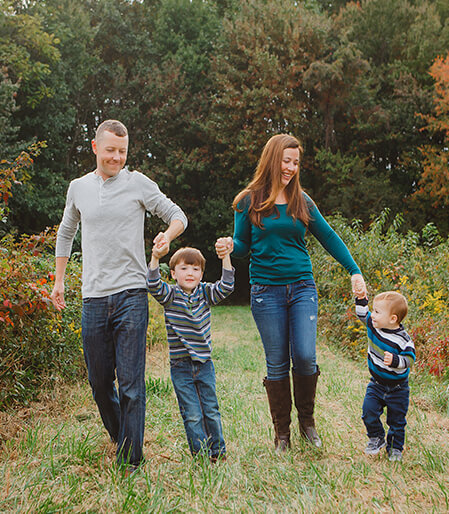 It all started in 2012, with the birth of our second son. You see our first son had been enrolled in a pretty great preschool (which we waited three years to get into!), only to pull him out while we were on maternity leave with our second son. (We couldn't afford to take unpaid leave and cover the cost of preschool, so we lost our coveted spot at said preschool.) We couldn't wait three more years to get our kids back into the program so we looked around at other options. To our dismay, we had a lot of trouble finding a preschool that checked all of the boxes.
There was the amazing nature preschool…with very limited hours, no academic exposure and a higher-than-average risk of Lyme disease.
There was the bright, clean, name-brand preschool with a great reputation…however we couldn't get over the institutional feel for such young kids and they didn't seem to prioritize outdoor play, nor creativity.
There was the warm, loving, home-like preschool with super friendly teachers…but then they served hot dogs, tater tots and a giant cookie for lunch and left us with a feeling of wanting more.
And then there were the 23 others with a similar pattern of meeting some needs and not the rest…
We started talking about all of the must-have things we hoped for in a preschool, as well as the wish list things we dreamed about for our boys. The more we talked about it, the clearer the vision became for what this ideal preschool would look like.
We imagined a bilingual and multicultural education, where kids would have the opportunity to be immersed in a second language and exposed to a diverse community
First and foremost, we imagined a school that nurtured and developed the WHOLE child. We had two young boys so we had a special appreciation for nature and the outdoors, but we also cared about music, language, culture, academics, warmth, nutrition, play, rigor, social skills, life skills, parent involvement, community, enrichment opportunities, connection, real world experiences and more! We imagined a bilingual and multi-cultural education, where kids would have the opportunity to be immersed in a second language and exposed to a diverse community representing the world we live in. We craved warmth and positivity for our children and caring, passionate teachers and staff who paid attention to the details. We wished for our children to learn organically though play, keeping their minds open to explore their curiosities and creativity and developing autonomy, naturally, along the way. We imagined an environment where children would be challenged to stretch their minds, bodies and imaginations in every way possible. We especially wanted to provide an education where children, during their most formative years, could take advantage of every opportunity to start off with an incredible foundation for learning and living.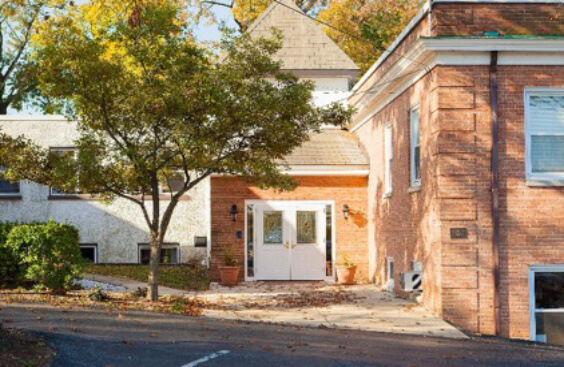 We brainstormed and kept notes for a good year before we finally asked ourselves, WHAT IF? We knew if these things were important to us, then other parents must be seeking them too. After that, we didn't look back. We spent the next several months putting together a plan, looking for space and applying for every loan and credit card we could get our hands on (all the while working two full-time jobs) with two young boys at home. We were incredibly fortunate to find our first space in a great location in Bethesda and then we managed to scrape together just enough funds to cover the many renovations and start-up costs needed to get started.
In the fall of 2013, we couldn't have been more excited, as we proudly opened our doors with three children, (two of our own), in a single classroom at Wildwood Baptist Church. With our own children enrolled in our preschool and knowing that we would be serving other children in our community, we were driven to build a high-quality program that ensured the very best opportunities for children and their families. We invested more than 75 hours per week for the first four years to establish a strong foundation and grow our program to become the vision we dreamt of.
We were so incredibly lucky to have welcomed the BEST families right from the start.
We were so incredibly lucky to have welcomed the BEST families right from the start. They encouraged us in every way, supported our growth and improvement and ensured a welcoming and connected community for our school. Six months after we opened, our school had expanded to offer three classrooms and served more than 30 children. Three years later, in December 2016, we served 60 children and had a team of 20 teachers and administrators.
In January 2017, our preschool was able to expand again and find a forever home when we moved into 15,000 square feet of space at Pike & Rose on Executive Blvd. The additional space allowed us to expand our reach to siblings and other children in our community as we added classrooms and launched Aventuras After School in the fall of 2017 and Aventuras Summer in the summer of 2018.
Today, with the great fortune of an incredible team of teachers and administrators who work tirelessly, and a community of the most thoughtful and invested families, we have built and continually improved upon a school that resonates warmth and community. 
From the excited faces of children and teachers every morning to the sounds of children's footsteps and singing voices in the hallways, our school represents a unified community of families seeking the very best for its' children.
Our vision of providing the perfect balance of joy and education has come to life through the artwork covering the walls, the Spanish music performed at our family events, the cheerful laughter from games on the playground and the skills and curiosities explored in our ongoing classroom projects. Our kids leave Whole Kids Academy as strong, independent thinkers who radiate joy, curiosity and great potential. (And as kids who can speak at least two languages!)
Though our school has experienced tremendous growth over the years, we still hold true to the intimate community feel we started within that first classroom at Wildwood. We continue to adore and celebrate each child who walks through our doors. We get to know each family by name and are tuned in to their unique needs and preferences. We are a community that truly cares and aims to make a difference in what we do every day.
When we set out to build Whole Kids Academy, we dreamt of the difference we could make to the children, to our staff and to the hardworking families in our community. We never imagined the impact that all of you would make on us. It's been a deeply impactful, humbling and at times, wild ride for our family. It has also been our greatest honor to be a part of something so special and we are incredibly grateful to our teachers, our staff, the children and families who have helped to build and maintain such a wonderful community at Whole Kids Academy.